Last October, we had the pleasure of receiving our friend Bill Lavender (AgAir Update ) here at Zanoni Equipamentos, where we told him a little bit of our history and shared a suckling pig, feijoada and caipirinhas.
In a recently released article, Bill expresses his thoughts on us:
"Zanoni Equipamentos is a name that carries the trademark of quality liquid applications equipment for aerial application and a family name where father, mother, sons, daughter and in-laws work together to keep the Zanoni Equipamentos name at the top of the list of aerial application equipment manufacturers.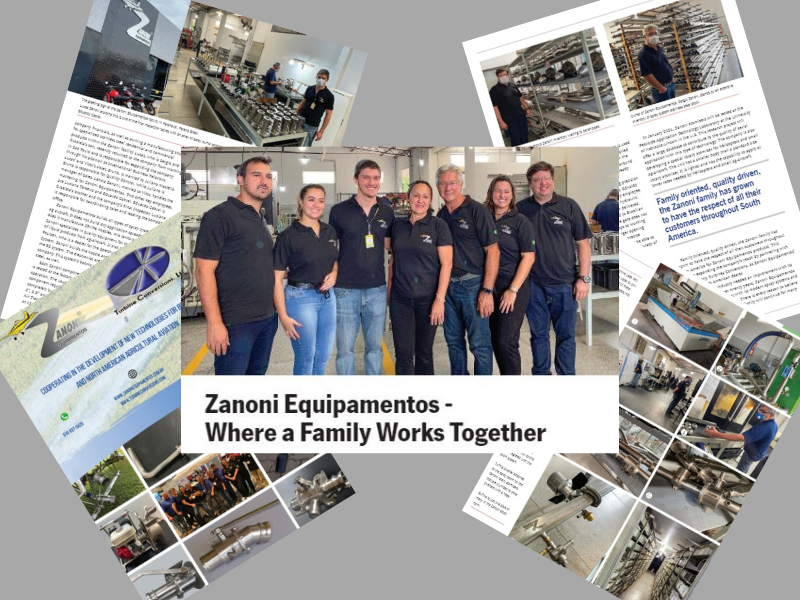 Family oriented, quality driven, the Zanoni family has grown to have the respect of all their customers throughout South America for Zanoni Equipamentos products. This includes expanding the company's reach by partnering with U.S. company, Turbine Conversions, as Zanoni Equipamentos' exclusive North American dealer.
Whenever the industry needed an improvement with its spray system, for over twenty years, Zanoni Equipamentos has been at the forefront with its modern spray systems and now its hydraulic fire gate. There is every reason to believe innovation from the Zanoni family will continue for many decades to come".
To read the full article, click on this link or access the full issue of the magazine here.