In early December, Zanoni Equipamentos participated in the NAAA convention, the national agricultural aviation trade show in the United States. During the event held in Savannah, in the state of Georgia, the company had the opportunity to present some of the Brazilian aerial application technologies, follow market news and discuss new perspectives and challenges for the industry.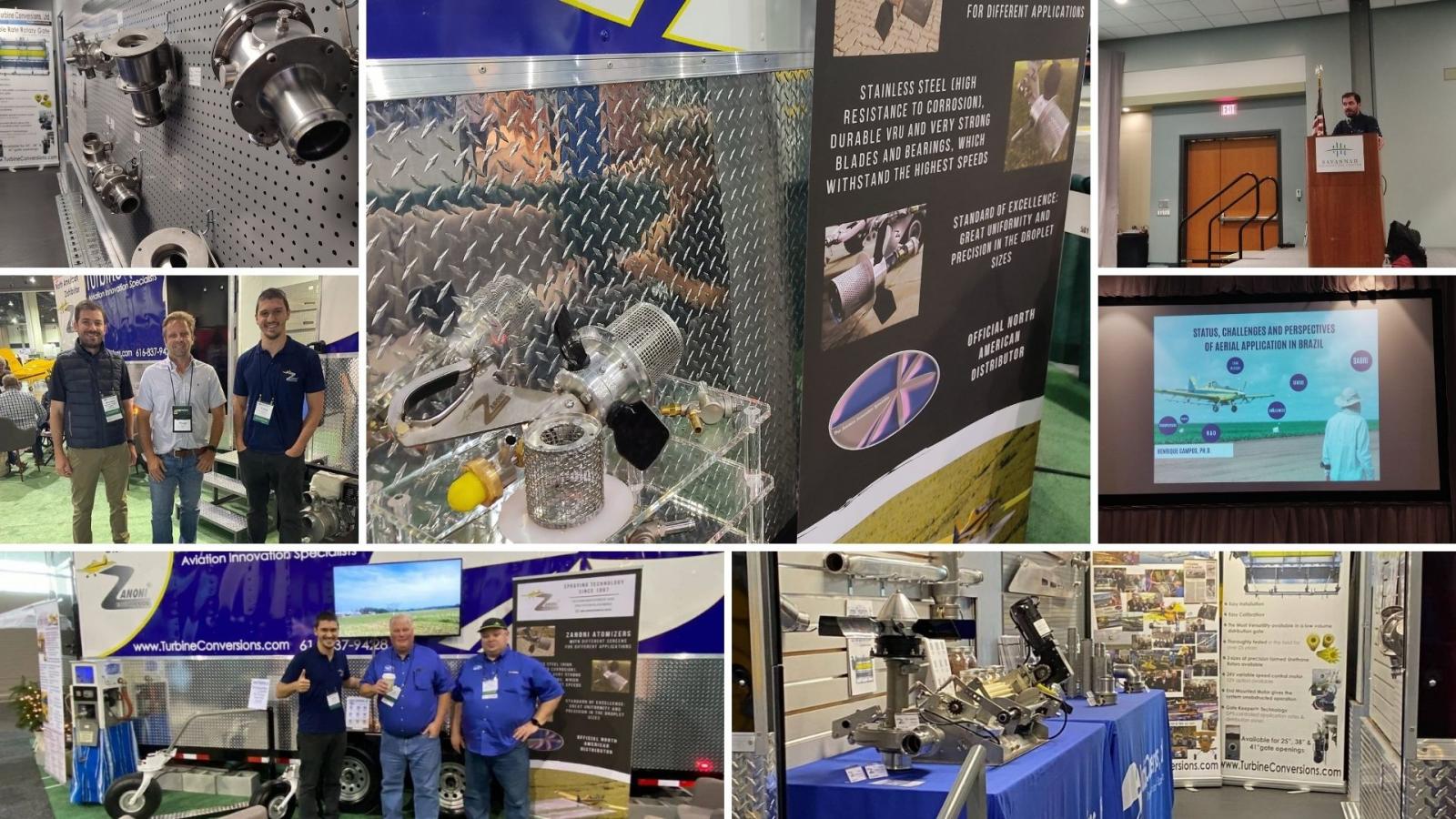 Along with Turbine Conversions, a company located in Michigan and Zanoni's distributor in North America, the Brazilian manufacturer was, for the fifth consecutive year, presenting its products to local pilots. The commercial responsible for the partnership, Mark Grahek, highlighted that now in 2021 the feedback from customers has been very positive: "we have seen more and more acceptance of Zanoni products here in the United States. Our customers are very satisfied with the durability of the equipment and its excellent performance. In addition to the growing demand from North American agricultural aviation companies for the Zanoni spray system, we have also had the approval of the Zanoni atomizer by the one of the Canadian provincial governments. Our partnership is getting stronger every year".
In addition to exhibiting its products, Zanoni Equipamentos took the opportunity of the event to discuss new projects with its foreign partners, seeking to bring new technologies to Brazil and contribute to the development of agricultural aviation throughout the world. Lucas Zanoni, responsible for the company's international business area, detailed some of these works: "Since our foundation, Zanoni Equipamentos is a company focused on international cooperation. We have had a very productive association with Agnav since 2009, developing valves and flowmeters and, more recently, we have also started to work on automating other Zanoni product lines. In addition to conversations with our Canadian friends, the show is a great space to discuss new development projects with other leading companies in the market, such as aircraft manufacturers Air Tractor and Thrush. Understanding the direction of flight in our industry is essential for us to be always at the forefront and offering our partners the highest quality equipment".
This year, Turbine Conversions and Zanoni Equipamentos invited the agronomist PhD. Henrique Campos to give a technical lecture. The consultant had the opportunity to present the "status, challenges and perspectives for Brazilian aerial application" to the pilots and some of the greatest experts in the USA. In an excellent exhibition, we had the opportunity to share knowledge, publicize the level of maturity of Brazilian agricultural aviation and discuss forms of cooperation with North American operators. Zanoni highlights that it is very happy to be back to the face-to-face events of agricultural aviation and to reconnect with its old friends, looking forward to the SINDAG congress in 2022.